I really wanted to make a cake to mark the Jubilee and I have been racking my (baby!) brain for a couple of weeks to think up the perfect one. Then suddenly, last week it hit me: as the British flag is red, white and blue I wanted to re-create these colours in a cake. So I thought that a red velvet sponge, coated in white cream cheese frosting with a blue decoration for the topping would hopefully be an interpretation of the union jack colour ways. Being a celebration cake it contains three sponge layers.
So here it is, my Jubilee Celebration Cake.
You will need:
250g s/r flour sifted
1 tsp baking powder
2 tbsp cocoa powder (unsweetened)
1 small jar of baby beetroot, rinsed and puréed
1 tbsp red gel food liquid colouring
125g unsalted butter, at room temperature
225g sugar
2 eggs, at room temperature
1 tsp vanilla extract
1 individual pot (100ml approx) of vanilla yogurt
1 tsp white vinegar
1 tsp baking soda
Then you need to:
Preheat the oven to 180oC/160oC (fan)
Grease and line 3 x 8 inch cake tins
Beat the butter and sugar together until pale and creamy. Add the eggs, vanilla essence, flour, baking powder and cocoa powder and red food colouring gel and beat until combined. Then add the beetroot and yogurt and mix well again.
In a separate bowl, mix together the white wine vinegar and baking soda and watch it fizz! *please note that you need to ensure that your cake tins are ready as this next bit needs to be done quickly*
Add the fizzing baking soda mixture to the cake batter and give it a good stir as quickly as you can and then divide the batter between the three tins and then place in to the oven.
Bake in the oven for about 25 minutes or until the cakes are cooked
While the cake is cooking, make the cream cheese frosting
Cream cheese frosting
2 tubs of full fat cream cheese
125g unsealed butter, at room temperature
1 tsp vanilla extract
300g icing sugar, sifted
Beat the butter and cream cheese together until combined
Add the remaining ingredients and beat until creamy
Pour into a sealed container and refrigerate until required.
Once the cakes are cooked, allow to cool and then remove from their tins and leave them to cool completely.
When they have cooled down, sandwich the three sponges together with the cream cheese frosting
Then decorate the cake with the remainder of the frosting. Place in the fridge until you want to eat it so that the cream cheese frosting stays set. Just before serving decorate the top of the cake with anything you like really or you could just leave it plain. Being a Jubilee cake I used red, white and blue sugar coated balls and some blue edible glitter.
A great cake for any celebration really!

Jubilee I Love Cake Link Up
So do you fancy baking a Jubilee inspired cake or bake?
Maybe you have already made one.
Either way please link up below as I would love to see what everyone else has created for the Jubilee celebrations.
Linky will open from midnight 29/5/2012 until midnight 8/6/2012
Love Cake?
The why not grab my new badge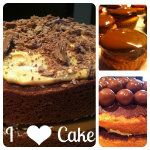 Previous I Love Cake posts can be found
here