makes 18
You will need:
100g flour
100g sugar, sifted
1/4 tsp baking powder
75g butter
25g cream cheese
1 tbsp strawberry jam
1 egg, 1egg yolk and 1 egg white
6 digestive biscuits made into fine crumbs
For the strawberry cream cheese topping:
300g icing sugar
100g cream cheese
50g room temp butter
1 tsp strawberry jam
To decorate:
fresh strawberries
more digestive biscuit crumbs
To make the cupcakes:
pre heat the oven to 180oC/160oC fan
place the egg white in a bowl and whisk on high until it is firm and a little peak forms
once the egg white is ready, put it into a bowl to use later
place the butter, cream cheese and sugar in a bowl and beat well until the mixture turns pale and creamy
then add the flour, baking powder and egg and egg yolk and continue mixing until combined
stir through the jam and then fold in the egg white
in each paper cake case add a tsp of the digestive biscuit crumbs
then add the cake batter to fill the case about 3/4 full
put the trays into the oven and cook for about 20 minutes until the cakes are cooked all the way through
while they are cooking make your
strawberry cream cheese frosting:
place butter and icing sugar into a bowl and beat until creamy and combined
add the cream cheese and jam and mix well
place into the fridge to keep chilled until you are ready to use it
once the cakes are cooked and cooled completely, top your cakes with the cream cheese frosting.
(I did find the frosting a little sloppy for piping but being a novice at piping that may have been because i added too much to each cake!)
then top each cake with the biscuit crumbs and a strawberry - left whole or sliced
keep the cakes in the fridge and they will keep for 3-4 days (if they don't get eaten faster of course!)
mmmmm!!
So now it is your turn!!
Its I Love Cake time again and the theme is
STRAWBERRIES

Please join in and link up and cakes or bakes where strawberries are featured in some way, it can be a recipe you have already posted or a new one seeing as though strawberries are in season at the moment. Or you could even try making these cheesecake cup cakes !!
Grab the badge, link up your post and lets love our strawberry cakes!!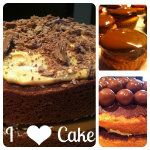 The linky closes at midnight on 30th June, 2012