I recently made these for a friend whose birthday I had forgotten (oooops!). So to win myself back in her good books, I thought I would make her a cupcake based on her favourite sweet treat - the millionaire shortbread.
Here is how I did it
(recipe makes approx 18 cakes)
you will need:
125g self rising flour
75g unsalted butter
100g caster sugar
1 medium chocolate & caramel chocolate bar (I used Galaxy)
2 eggs
100g pot of toffee yogurt
1 packet of shortbread biscuits, crushed into breadcrumbs
200g milk chocolate
1 tin of toffee sauce/condensed milk/dulce luche sauce
Then you need to:
to make the toffee sauce if you haven't bought it ready made in a tin
gently simmer a tin of condensed milk covered in water for 4 hours - checking on it to ensure the water doesn't boil dry
to make the cupcakes
pre-heat the oven to 180oC / 160oC fan
place the paper case in your cake tins and add a tsp of shortbread crumbs at the bottom of each case
gently melt the yogurt and chocolate & caramel bar together over a low heat
leave to cool slightly
meanwhile, beat the butter and sugar together until smooth, pale and creamy
add the flour and eggs and combine well
stir through the chocolate and yogurt mix
divide the batter between your cupcake cases - filling about 2/3 of each case
place in the oven and cook for about 20 minutes or until the cakes are cooked all the way through
to decorate
once your cakes have cooled down completely, add 2 tsp of the toffee sauce to the top of each one
place the toffee covered cakes in the fridge to set for about 30 minutes
slowly melt your chocolate
then remove the cakes from the fridge and top each one with the melted chocolate
then decorate each cake with a few scatterings of shortbread biscuit crumbs
place back in the fridge to set and thats it!
Do you have a recipe you would like to link up?
This months theme is toffee/caramel
Please join in with a scrummy recipe you have made or are about to create for me to see because as you all know, I love cake :)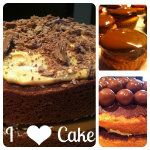 The linky closes at midnight on 1st August, 2012