I was recently asked if I would like to create a pancake recipe to appear on
Good To Know
for a 'pimp my pancake' feature which they are holding to co-incide with Shrove Tuesday/Pancake Day.
I remember watching a Jamie Oliver cookery programme last year (I think!) where he made a stack of pancakes and layered them with cream and chocolate and made a kind of pancake cake. I have wanted an excuse to re-create something like this myself ever since, and now I have been given the ideal opportunity.
The idea for my Black Forest Pan-Cake comes from a couple of things. One is that when I was a child I used to often visit the Little Chef restaurants and my favourite dessert on their menu was the pancakes filled with cherries and ice cream. Also, I have been wondering for ages if a chocolate pancake could be made by adding cocoa powder in place of some of the flour. Then I just thought after the invitation to design a pancake recipe came through, that a black forest style pancake layer cake could work and taste rather yummy!
It is and here is how I made it
Serves 10-12
Ingredients
For the pancakes (makes 8 american style so thicker than crepes)
1 3/4 mugs of self raising flour, sifted
1/4 mug of cocoa powder* , sifted
2 mugs of milk
2 eggs
pinch of salt
Frylight
(you can use oil but I found this works well as a couple of sprays of the pan for each pancake worked well)
* I used cocoa powder as opposed to drinking chocolate which meant my pancakes were not very sweet. If you are making this for children and those with a sweeter tooth, use drinking chocolate powder instead or add a little less flour and add some icing sugar to the mix to make the pancake batter sweeter.
Ingredients
For the filling
600ml double cream
1 tin of red cherry fruit filling
50g milk chocolate
50g plain chocolate
6 cherries (decoration)
edible cake glitter in white
To make the pancakes
Place all the ingredients into a blender and mix to make a smooth and airy batter (about 30 secs)
Pour into a bowl
Place your frying pan onto a medium to high heat and add some oil/frylight
Once oil starts to move away from the sides of pan, pour in a ladle full of batter and swirl pan quickly to make a circle shape - if you are like me the first couple of pancakes never look as good but with this pan-cake it doesn't matter because it will all be covered!
Flip pancake or use a fish slice if you are not confident enough, once the pancake starts to cook around the circumference and cook until browned. With these chocolate pancakes, dark brown!
Place each pancake onto a piece of greaseproof paper
Repeat until all the batter is used up
Leave the pancakes to cool down completely
To make the filling & topping
Whip the cream until thick but not rigid - still a little movement
Remove 2 tbsp into another bowl for later
Add the cherry pie filling into the larger quantity of cream and stir through
Place the chocolate into a microwave bowl and melt in the microwave at 30 sec intervals
By now the pancakes should be cooled down
Layer the pancakes with the cherry cream
For top pancake, add the plain whipped cream
Then drizzle the melted chocolate all over the top pancake - it doesn't matter if it goes over the side of the stack
Then decorate with the cherries and the cake glitter (optional)
It's flipping delicious!!
NOW ITS YOUR TURN
Please link up any cakes or baking creations you have made recently - anything goes as long as it is edible and yummy!!
You can add my badge if you wish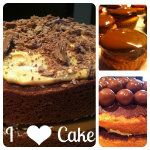 All linked up recipes can be pinned to my new
We Love Cake pinterest board
too so everyone can share our cake love!! I will make this a collaborative board open to anyone who wishes to link up and pin.
Please leave your

pinterest profile URL in the comments box below if you want permission to add to the board.
(
if you would prefer not to have your recipe pinned please let me know in the comments box below. thank you
)
Let the cake love fest begin :)
(linky will remain open until the end of Feb, 2013)